Azgard Corporation was incorporated in 1981 and commenced operations in 1984 under the name of Cyntech Resource Services Ltd. The company established a thriving business providing steam stimulation services in the heavy oil fields of northern Alberta. In the late 1980's, the steam stimulation business declined due to falling oil prices, so the company re-directed its efforts into new areas: the design and manufacture of pipeline anchors and helical piles and the construction and repair of large aboveground storage tanks.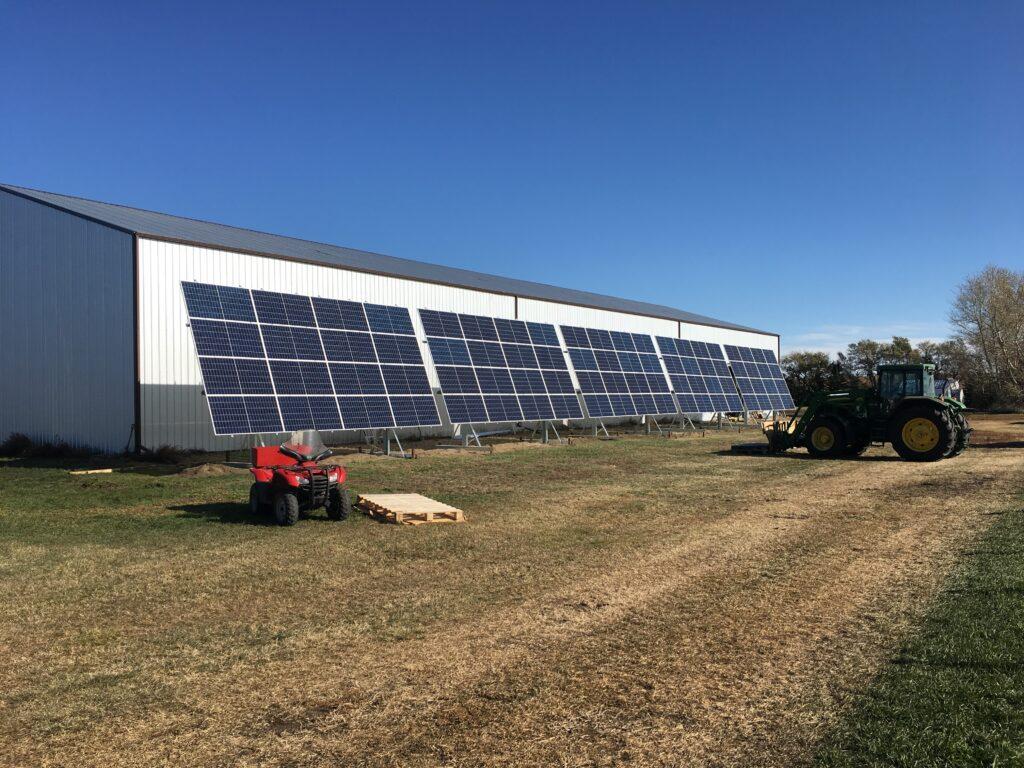 The company, now under the name of Cyntech Corporation, grew steadily from 3 employees in 1993 to more than 120 employees in 2010. In 2006, Cyntech Corporation was recognized by Alberta Venture Magazine as one of Alberta's top 25 fastest growing companies under $20 million in revenue, and for each of the following three years was similarly recognized. In 2010, the company was named by Alberta Venture Magazine as the 24th fastest growing company in Alberta in the over $25 million category. In November, 2010, our pipeline anchor, helical pile and storage tank businesses were acquired by North American Construction Group.
Early in 2010, the company had begun a small solar energy initiative, and with the sale of our other divisions, the solar energy business now became the company's primary focus. In late 2010, the company name was changed to Azgard Corporation, and the company began developing and building solar energy projects in Ontario. From 2010 to 2013, Azgard designed and built more than 100 small 10kW ground mount solar projects in northwestern Ontario, with 86 of these projects still owned and operated by Azgard.
In 2014, Azgard designed and built a 54kW solar system for NWT Power in a very remote community in the Northwest Territories.
In 2015, Azgard designed and built it's 1MW Black Bay Solar Project near Red Rock, Ontario. They also completed its 240kW Deep River Solar Project near Deep River, Ontario in 2016. Both the Black Bay and Deep River projects are currently owned and operated by Azgard Corporation.
Neale Johannesson, President and Co-Founder
With a degree in Mechanical Engineering from the University of Saskatchewan, Neale has led the company since its inception in 1981. Neale has more than 40 years of industry experience in project management and corporate leadership.
Zita Fulawka, Senior Vice President and CFO
Educated at the University of Calgary, Zita has provided the financial leadership of the company since 1987. Zita has more than 35 years of industry experience in finance, accounting, administration and corporate development.
Craig Hannah, Engineering Manager and CTO
With both bachelor and masters degrees in Civil Engineering from the University of Calgary, Craig has been with Azgard since 2007. With more than 35 years of industry experience and as a leading expert in cellular concrete, Craig provides the technological leadership of the company.
Patrick Fulawka, Business Development Manager
Having over 20 years of experience in marketing through a variety of industries, Patrick has invested the last 10 years in the solar power industry. He brings a "client first" attitude to Azgard Solar and a focus on customer project success.
Mervin Fulawka, Operations Manager
With a background in Environmental Engineering Technology, Mervin has recently joined the Azgard team. Mervin has over 25 years experience in the energy sector, including project management, Health & Safety as well as fabrication.
SOLAR ENERGY
SOCIETY OF ALBERTA